"Greater love hath no man than this, that a man lay down his life for his friends."
(John 15:13)
In this period of Easter, it is good to look at the events that led to the crucifixion of our dear Lord and Saviour Jesus Christ and see what we could learn from it for our edification. For this reason, I wish to share a little something about the demonstrations and actions of love that we can see about the time of our Lord's crucifixion. This is what I term here, Parade Of Love.
I shall present the love of Peter for Christ as well as the love of Christ for all. If anyone were to love you the way Peter loved Jesus, your world would be rounder than the globe. But how much more the love of Christ for you and I. I pray that it blesses you as you read.
—The Love Of Peter—
"Peter said unto him, Lord… I will lay down my life for thy sake." (John 13:37)
A man whose devotion and love to Jesus was very pronounce in the Gospels was Peter. He had so much love for Jesus and these were seen in most of his actions.
First he had a childlike love that led him to want to be like Christ in every way. He wanted to do everything that Christ did. When Jesus came walking on water, he wanted to do the same.
His childlike love wanted Jesus exclusively and specially. In there conversations with Jesus, others used expressions such as, "we" and "us." Judas (not Iscariot, that is the Judas who we know as Jude who wrote the epistle of Jude), said, "…Lord, how is it that thou wilt manifest thyself unto US, and not unto the world?" (John 14:22). Philip said to him, "…Lord, shew us the Father, and it sufficeth US." (John 14:8). It goes on, but when Peter would speak, he said, "…Lord, why cannot I follow thee now? I will lay down my life for thy sake. (John 13:37). He didn't say "why cannot we follow thee now," but he rather used the personal pronoun.
He had reverential love. When Jesus washed their feet, showing how they ought to serve, others were probably puzzled but did not resist, but Peter could not bear watching his Lord wash his feet and voiced out. The account goes, "Then cometh he to Simon Peter: and Peter saith unto him, Lord, dost thou wash my feet? Jesus answered and said unto him, What I do thou knowest not now; but thou shalt know hereafter. Peter saith unto him, Thou shalt never wash my feet…" (John 13:6 – 8).
There're probably other ways Peter showed love for the Lord Jesus, but what I consider the ultimate show of his love was this statement, "I will lay down my life for thy sake." (John 13:37). Some think Peter was being insincere, but I'm convinced that he really meant what he said and was ready to die for the sake of Jesus. The only problem is that while he was willing to die for him, he wasn't willing to die with him. He wasn't willing to die a death that his rationale taught him to think unwise. For if by giving his life he could save the Master, he was willing to die, but if even by his dying he couldn't save the Master, he wasn't willing to die, for he must have taught that to be a waste.
These things could be seen easily in his actions. When the mob came, he was willing to fight them off. His cutting of the servant of the priest's ear was a show of mastery and a show of the will to fight should it come to that. Such an action would by and by lead to his death and he was willing to risk it in defence of Jesus. However, when he saw Jesus wasn't willing to avoid arrest having commanded him to put his sword away, he fled. It was not so much as a matter of faltering love as it is of a failure to see the wisdom in dying together with him. So he did mean what he said and said what he meant.
His love failed and fizzled off in the presence of the fear of dying with Jesus, yet he couldn't altogether abandon his Master. He followed from afar in anguish of heart. He just couldn't bear the pain of having his Master out of sight. It was the longing for his Master that saw him go into places where he was accused of being one of Jesus followers and he denied the Lord as he had foretold.
The contrition Peter felt when he remembered that he had denied his Lord the way he strongly believed he could never do is a product of sincere love. "And the Lord turned, and looked upon Peter. And Peter remembered the word of the Lord, how he had said unto him, Before the cock crow, thou shalt deny me thrice. And Peter went out, and wept bitterly." (Luke 22:61 – 62). Now that is love. A love that feels no contrition in the knowledge of its wrongdoing is no love. Love + the knowledge of sin or wrongdoing = Contrition. The painful remorse he felt was another attestation to the sincere love he had.
Lastly, Jesus himself acknowledged that Peter loved him, for he acknowledged that Peter was willing to act according to how he said, for Jesus said to him, "Watch and pray, that ye enter not into temptation: the spirit indeed is willing, but the flesh is weak." (Matthew 26:41). The account of Mark used "truly" in place of indeed. So Jesus acknowledged that he wasn't bluffing.
Also, when he asked him three times, "Peter, son of Jonas, do you love me?" he was asking it because he knew he loved him. He saying in essence, "I want you to acknowledge the love you have for me and act accordingly in tending of my sheep."
The lesson we can learn from Peter's love is useful especially for every Christian who have that sincere love for the Lord but experience failure in showing that love. They wish to be holy as such a love for God demands, but they find themselves failing often. They wish to serve more, but they find that they fail to. This causes bitterness like Peter felt. The love for Jesus was there in the heart of Peter but that love failed because he failed to pray and because he had not the power of the Holy Ghost. When however Peter became a praying man and filled with the Holy Ghost, he became a man who willingly suffered persecutions and eventually died for the Saviour. If we must live victorious Christian lives, we must learn to pray and be filled with the Holy Ghost and with power. No matter the intensity of the passion of our love, it avails nothing to do good works if power is not giving to us from on high. The same applies to having the desire to go to Heaven. The desire can avail nothing for Jesus clearly says Luke 18:24 that many would indeed seek to enter but shall not be able. So desire, whether by love or not cannot bring to fruition good works. It can only by the power of the Holy Ghost. There's no other way to have the Holy Ghost and power except by means of prayer (Luke 11:13).
—The Love Of Jesus!—
"Greater love hath no man than this, that a man lay down his life for his friends." (John 15:13)
"…I lay down my life for the sheep." (John 10:15)
To attempt to talk on the love of Christ is to attempt to talk about something too well known and yet can't be overemphasised. I consider this almost futile because when you've spoken so much, you look at the things you've covered about his love, and looking at the immensity of that love, you'll discovered you've said close to nothing. But to point to us how his love was demonstrated in the period around his crucifixion and resurrection which we celebrate every year at Easter, I wish to talk briefly on his love.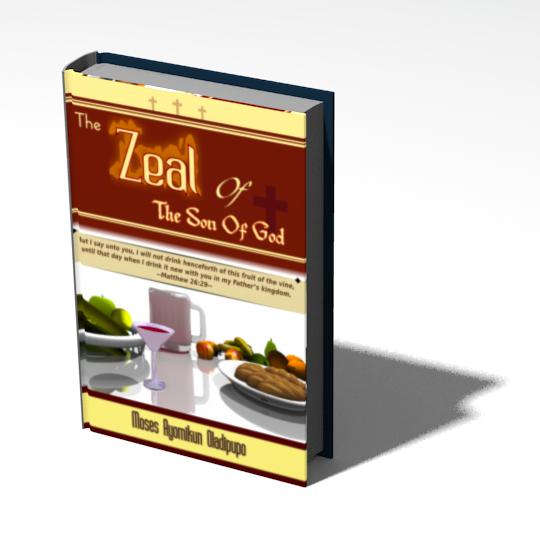 First we see the intensity of his passion for us all in his statement which goes, "But I say unto you, I will not drink henceforth of this fruit of the vine, until that day when I drink it new with you in my Father's kingdom." (Matthew 26:29). This was the key verse of my book "THE ZEAL OF THE SON OF GOD," in which I explained how this verse showed the passion of Jesus, showing to us that he's going to deny himself the merriment of drinking of the fruit of the vine until our salvation is complete. He has been observing this fast for over 2,000 years as at this present time. Now that is love. That is passionate love.
One may say, "well, he meant only his disciples which were with him at the table," but hear this, "God having provided some better thing for us, that they without us should not be made perfect." (Hebrews 11:40). All the saints, from righteous Abel to the apostles and down history lane to this present time cannot be made perfect (speaking in terms of final salvation) without us and the saints to come. Not until we all gather together in Heaven shall all be fulfilled when we shall all meet at the supper of the Lamb and drink of the fruit of the vine anew. He referred to you and I too. Now that is love.
Next we see his love in his prayer for us. His prayer was not a selfish love but a passionate one. He prayed for us all in tears and heavy drops of sweat mingled with blood. It was with much passion and earnestness that caused him to be in that state. Now that is love.
Next, we see his love in refusal to be saved from the crucifixion for you and I. He didn't need the assistance of his disciples, he could have sent for angels to come to his defence, but seeing the damnation that awaits you and I, he chose the shame and death of the cross. Now that is love.
Next, after his resurrection, he went in search of Peter to restore him despite the fact that he denied him. His dealings with Peter after his resurrection showed that he loved him so much as he loves each and everyone of us. He found him and made sure he dealt with his feeling of guilt and restored him not with a common commission, but with the prime commission of feeding his sheep. He forgave to the uttermost. Now that is love.
The last I'll point out is the love he showed for us. When a man is about to leave the world, why should he care so much about what goes on after him. It is only love that would make him make decision about how things shall go well with the ones he's leaving behind. The level of care in making such decisions is dependent on the level of love he has, and not the care for his own personal well being. When Jesus thought of his sheep, he gave the responsibility of feeding and tending the sheep on account of love. When he asked Peter thrice to feed his sheep, he made it to be on the condition of his love for him and this was because Jesus loves his church so much that he won't hand over the well being of his church to just anybody. He gave it to a one who he knows full well loved him and would go any length for that love if he had been prayerful. Now that is love.
We could go on and on, but I don't intend to be tedious on the subject. But as we ponder on the death and resurrection of our Lord and Saviour Jesus Christ, let us not miss the blessedness of pondering on the pure love that was on parade about this period in history. We can see quite clearly that Easter, not valentine, is the parade of love at its best.
May the blessedness of the this Easter celebration fill our hearts and minds with that pure holy and celestial love we find at its best in Jesus Christ. Thank you for reading.
Prayer: Thank you dear Lord and Saviour Jesus Christ for such a love you've showed us. We are undeserving yet you've poured your love abundantly upon us. We can't be sufficiently grateful. As we celebrate this Easter, please help us to be filled with that celestial love and give us the grace to be prayerful that our love does not fail. This we pray in Jesus' mighty name. Amen.
Please follow and like us: